Trees, while they do require water to survive, actually aid conservation by providing shade and reducing water loss to evaporation, not to mention the many other environmental benefits they bring to our community.  In order to promote proper care in our dry climate, the Water Authority offers "Tree-Bates" to help cover the costs of tree maintenance — and even the purchase of new trees!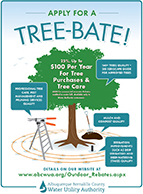 The "Tree-Bate" is 25 percent of the cost of professional tree care, or for purchase of new low and medium water use trees that appear on the Water Authority's xeriscape plant/tree list guide. The maximum rebate for residential customers is $100 per year.  The maximum rebate for non-residential customers is $500. Besides the purchase of new trees, other services and items may also qualify for the rebate. Examples are: professional tree care such as pruning, fertilization,pest management, or installation. Examples of other items that may qualify are: irrigation equipment such as deep watering stakes or soil amendments such as compost.
To help its customers narrow down their purchasing decisions, the Water Authority has assembled a list of 20 trees (downloadable 1.5MB pdf) that are proven to thrive in our area, are commonly available for purchase, fit a variety of situations, and provide numerous environmental benefits.
How to Apply
Customers can apply by going to our rebate portal and signing up.
Please Note: "Tree-Bates" are not available for the removal of trees. Customers are required to submit proof of purchase or service with rebate forms. For tree purchases, you are also required to submit a picture or scan of your tree tag you receive when purchased. If the rebate form is incomplete or missing proof of purchase or service, it delays processing and all documentation is returned to the customer.
In order to avoid unnecessary conflicts, it is important to select "the right tree for the right place". Viewing what the mature tree looks like in the landscape can be very helpful for this decision. See links below for self-guided tree tours at the UNM main campus and the Rio Grande Botanic Garden..
https://www.cabq.gov/culturalservices/biopark/documents/Treetourmap.pdf
Please Note: Downloadable Rebate Forms are in pdf format. PDF files can only be read using Adobe Acrobat Reader Software.
In order to obtain a free download of Adobe Acrobat reader software, click on the Acrobat Reader icon below.