The community of Carnuel currently obtains their water from private wells and disposes its sewage through on-site septic systems.
Background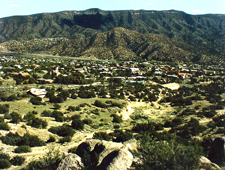 Carnuel is in urgent need of central public water and wastewater systems. Carnuel community's private wells are shallow and often co-exist in the same areas with poorly functioning, aging septic systems which have led to nitrate contamination in many of the wells. Moreover, the Carnuel community has seen a serious decline in the quality of water coming from private wells. In some areas it does not meet the federal and state drinking water standards.
This project consists of extending and constructing water and wastewater infrastructure from existing facilities owned and operated by the Water Authority to the Carnuel community. The extension of the water system to Carnuel will address water quality and fire protection issues by providing a reliable public water system to serve existing developed properties. The Water Authority is proposing the construction of a comprehensive sewer collection system in Carnuel to improve the health and safety of residents, thereby, remediating the Tijeras Canyon watershed.
In October 2008, the Water Authority and the Carnuel Mutual Domestic Water and Waste Water Consumer Association (Carnuel MDW&WWCA) entered into an agreement to extend water and wastewater infrastructure improvements and provide water service to the Carnuel community. This agreement also identified that the Water Authority would serve as the fiscal agent for the Carnuel MDW&WWCA on all state and federal grant and/or loan agreements. In addition, the Water Authority will plan, design, and construct all water and wastewater system improvements. The Water Authority will own, operate and maintain the water and wastewater system. Carnuel residents and business will become customers of the Water Authority.
Water Project Phasing
The project phasing was established to provide service to the areas identified as Priority Areas 1 and 2 in the Tijeras Canyon/ Carnuel Plan. The Priority Area 1 consists primarily of Carnuel where a concern with ground water quality from the individual water supply wells is the greatest. There are eight phases in order to extend water to Priority Areas 1 and 2.
Phase 1 connects Carnuel to the existing ABCWUA system and will provide distribution to customers within Zone 8E of Carnuel along NM 333. The phase includes the following items: (1) Connection to existing 14-inch Zone 8E piping in Camino La Sierra, north of I-40; (2) Jack and bore across I-40 to south side of I-40 frontage road; and (3) 12-inch piping along I-40 frontage road and NM 333 to about Riddle Road
Status: Complete, Service Available
Phase 2a extends the water system infrastructure improvements for Zone 8E and provides redundancy in the system with the construction of a Zone 8E reservoir. This phase also provides service to Zone 8E residences within Echo Canyon and increases fire protection capabilities. This phase includes the following:
Zone 8E 380,000-gallon reservoir along with an electrical controls building
A 6-inch distribution water main on the north side of NM 333
A 12-inch inlet and outlet water transmission lines along Camino Del Oeste
Two connections to existing 12-inch water main on the south side of NM 333
Six connections to the new transmission line along Camino del Osete
Construction of an earthen berm on the east side of the reservoir to shield it from view of the neighbors
Construction of site fencing, landscaping and irrigation for the reservoir site as well as an access road
Status: Complete, Service Available
Phase 2b & 2c extends the water system infrastructure improvements for Zone 8E in Echo Canyon and along north side of NM 333. This phase includes the following:
A 8-inch distribution water main along Camino El Alto
A 12-inch distribution water main along on the north side of NM 333
30 possible connections along Camino El Alto and north side of NM 333
Status: Estimated Completion – June 2020
Phase 3a continues to extend the Zone 8E system to Coyote Lane and includes Knight Lane.
Status: Complete, Service Available​
Wastewater Project Phasing
Phase 1 consists of constructing a low pressure sewer system to about 140 households. The Phase 1 area is located between Interstate 40 and NM State Road 333. A Design Analysis Report was completed in November 2019. The low pressure sewer system has the recommended solution and lowest life cycle cost alternative. Funding has been identified but not secured. The goal is to secure funding in 2020 and begin design and planning which will involve community input.
New Customer Information (Water Only)
Below is information for new water customers including how to connect to the water system, paying bills, water rates, conservation, and low-income assistance for connection expenses (PIPE Program).
Connecting to the Water System Information Sheet (English Version)
Connecting to the Water System Information Sheet (Spanish Version)
New Customer Handout
PIPE Program (English Version)
PIPE Program (Spanish Version)
If your home is not in one of the Phases listed above and you want to have clean drinking water, you may be eligible for a USDA Home Repair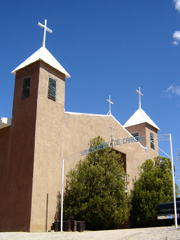 Loan and Grant to install a reverse osmosis water system for your home. The Very Low-Income Housing Repair program provides loans and grants to very low-income homeowners to repair, improve, or modernize their dwellings or to remove health and safety hazards. For more information, please see link below:
https://www.rd.usda.gov/programs-services/single-family-housing-repair-loans-grants
Environmental Reports
Two Environmental Information Documents have been completed for the water and wastewater systems which evaluate potential impacts associated with the projects. In compliance with the National Environmental Policy Act (NEPA), project planning includes the preparation of an environmental report. Important components of the NEPA process include the analysis of potential environmental impacts, the development and consideration of alternatives, and the solicitation of public involvement.
Wastewater Project Environmental Report [pdf 8.9MB]
Wastewater Project Public Hearing Presentation [pdf 3.3 MB]
Environmental Report [pdf 692 KB]
Appendix A – Maps and Figures [pdf 1.5 MB]
Appendix B – Agency Correspondence [pdf 1.6 MB]
Appendix C – Potential Environmental Justice Index [pdf 415 KB]
Appendix D – Public Meeting Information from April 18, 2009 [pdf 351 KB]
Appendix E – Public Hearing Information [pdf 2.2 MB]
Appendix F – Easement Information [pdf 666 KB]
Appendix G – Biological Survey Report [pdf 1 MB]
Appendix H – Cultural Resource Survey Information [pdf 517 KB]