Have You Ever Wondered How We Clean Wastewater?
Then this Tour Is for YOU!
Would you like to take your students on a field trip they won't forget?  For grades 5th grade and up, you can bring them to the Southside Wastewater Reclamation Plant (SWRP). We clean approximately 50 million gallons of wastewater every day, but most of us never stop to wonder about what it takes to accomplish that. Our employees work:
to ensure public and environmental health,
to maintain good water quality of the water we put into the river, and
to reclaim a portion of our water resources for re-use.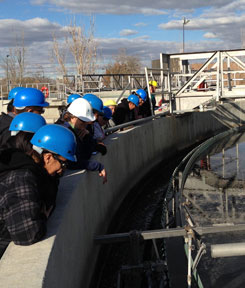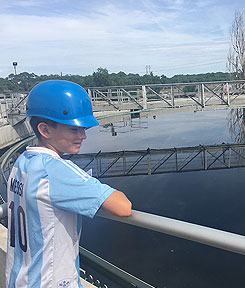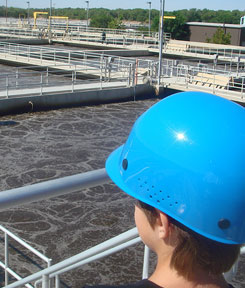 During the two-hour tour, students will do more than just hear about how we clean Albuquerque's wastewater, they'll see it. We look under the microscope at a drop of activated sludge to see the microorganisms that clean the water. We walk the plant following the path of the wastewater as it is cleaned. At the end of the tour, standing on the banks of the Rio Grande where the cleaned water is released into the river, we discuss current wastewater issues.
Tours are approximately two hours long. We can accommodate up to 32 students per tour. There is no cost for the tour, but we do not provide transportation to or from SWRP.
Click here to schedule a tour.
ADDITIONAL RESOURCES
Take the virtual tour of our drinking water or wastewater treatment plants.
Learn more about the history of sewers here
Questions? Call Jeff Tuttle at (505) 289-3027 or email jtuttle@abcwua.org